Analyse du cycle de vie (ACV) d'une filière de valorisation terrestre de sédiments de dragage marins contaminés
The dredging of the French harbors generates every year between 25 and 40 million tons of sediments, however few adapted treatment and valorization systems exist. Consequently, numerous research programs emerged such as SEDiGEST, which envisaged a scenario of backfill of the careers by treated marine sediments. The objective of this article is to assess results of the marine sediment terrestrial valorization systems in order to better identify the most impacting part of the systems. The assessment has been performed following the life cycle assessment (LCA) methodology via the GaBi 6 software, EcoInvent v2.2 databases with the characterization method ReCiPe. In the backfill scenario, the comparative study of the two treatments within the same terrestrial valorization system concluded that the addition of the stabilization step with hydraulic binders seems not to be beneficial and do not reduce the potential environmental impacts.
Le dragage des ports français génère chaque année entre 25 et 40 millions de tonnes de sédiments, cependant peu de filières de traitement et de valorisation adaptées existent. Par conséquence, de nombreux programmes de recherche ont émergé tel que le programme SEDiGEST qui envisageait un scénario de remblaiement des carrières par des sédiments marins traités. L'objectif de cet article est d'évaluer les impacts environnementaux de cette filière de valorisation terrestre de sédiments marins afin de mieux identifier les processus les plus pénalisants. L'évaluation a été réalisée en utilisant une Analyse de Cycle de Vie (ACV) via l'outil GaBi 6, la base de données Ecoinvent v2.2 et la méthode de caractérisation ReCiPe. Dans le scénario de remblaiement de carrière, l'étude comparative de deux alternatives au sein d'une même filière de valorisation terrestre a ainsi permis de conclure que l'ajout d'une étape de stabilisation par des liants hydrauliques ne semble pas bénéfique et ne permet pas de réduire les impacts environnementaux potentiels.
Fichier principal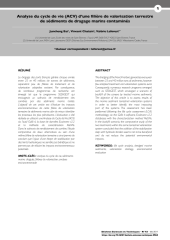 dst_73_2017_03_laforest.pdf (564.73 Ko)
Télécharger le fichier
Origin : Files produced by the author(s)