Une méthodologie et un outil d'évaluation du niveau de "FAIRness" pour les ressources sémantiques : le cas d'AgroPortal
The "FAIR" principles define a set of characteristics data and their metadata should respect in order to be Findable, Accessible, Interoperable, and Reusable. Per principle I2, an ontology, and more generally a semantic resource, should also be FAIR. Ontology-specific criteria begin to emerge, but there is still no mechanism to assess the degree of implementation of these principles. We propose an automatic evaluation method of the level of "FAIRness" of an ontology which is based on a rich and structured representation of the metadata. We rely on the MOD metadata model and have developed a prototype for AgroPortal, a repository of semantic resources and ontologies in agronomy.
Les principes "FAIR" définissent un ensemble de caractéristiques que les données et leurs métadonnées devraient présenter pour être Faciles à trouver, Accessibles, Interopérables et Réutilisables. Également, suivant le principe I2, une ontologie, et plus généralement une ressource sémantique, devrait aussi être "FAIR". Des critères spécifiques aux ontologies commencent à apparaître, mais il n'existe toujours pas de mécanismes pour évaluer le degré de mise en oeuvre de ces principes. Nous proposons une approche d'évaluation automatique du niveau de "FAIRness" d'une ontologie qui se base sur une représentation riche et structurée des métadonnées. Nous nous reposons sur le modèle de métadonnées MOD et avons développé un prototype pour AgroPortal, un portail de ressources sémantiques et d'ontologies en agronomie.
Fichier principal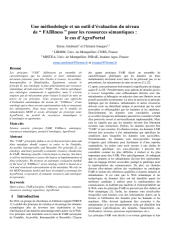 Papier_IC_FAIRness_Amdouni_Jonquet.pdf (637.65 Ko)
Télécharger le fichier
Origin : Files produced by the author(s)