La gestion intégrée des matières résiduelles : revue des outils favorisant l'écologie industrielle
Considering the necessity to establish principles of sustainable development within our industrialized society, and faced with growing volumes of industrial waste, it became essential to set up mechanisms to support the management of these residues (Thomas et al., 2005). Throughout the last three decades, many tools have been elaborated to assist decision making. However, some deficiencies were exposed after employing these tools because of the impossibility to execute, in a simple and effective way, comparisons and simulations of scenarios in order to analyse the behaviour of management systems (Harrison et al., 2001). Generally, the examination of environmental impacts and costs are the main functions imputed to current tools. Furthermore, the systemic behaviour stem from the decisions taken is totally ignored (Wang et al., 1996). Consequently, new tools need to be developed in order to offer more sustainable solutions to assist waste management.
Devant la nécessité d'instaurer les principes du développement durable dans nos sociétés industrialisées, et face aux volumes grandissants de résidus industriels générés, il s'avère essentiel de mettre en place des mécanismes pour soutenir la gestion de ces matières résiduelles (Thomas et al., 2005). Au cours des trois dernières décennies, plusieurs outils ont été développés pour appuyer la prise de décisions lors de cette gestion. Toutefois, des lacunes ont été relevées suite à l'application de ces outils, en raison de l'impossibilité d'effectuer, de façon simple et efficace, des comparaisons ou des simulations de scénarios dans le but d'analyser le comportement des systèmes de gestion (Harrison et al., 2001). L'analyse des impacts environnementaux et celle des coûts sont les principales fonctions des outils actuellement disponibles, et le comportement systémique découlant des décisions prises est ignoré (Wang et al., 1996). En ce sens, de nouveaux outils devront être élaborés afin de proposer des solutions plus durables pour la gestion des matières résiduelles.
Fichier principal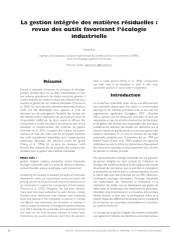 2_rojo.pdf (52.96 Ko)
Télécharger le fichier
Origin : Files produced by the author(s)