Le logiciel Traces : un outil d'aide à la gestion des risques liés aux sites et sols pollués
The two last centuries of uncontrolled industrialization have produced large amounts of brownfields, wastes dumps, landfills... in most of occidental countries. These sites, having used or produced hazardous or toxic substances, are potentially contaminated sites. The last official inventory of the Ministry of Environment in France has established 896 polluted sites for an estimated 200,000 potentially contaminated sites from the professionals of this domain. The problem related to these sites is the capability of the pollution to migrate from the soil to the surface water, the groundwater, and the air and finally to have an impact on living organisms (human, fauna, flora). Questions which are to be solved are then the extent and impact of the contamination and the alternatives to remediate it. The scientific and technical complexity added to the lack of (public or private) money make it hard to correctly manage these sites. For this purpose, a decision support system was developed in order to provide a rational, standardized and easy approach of potentially contaminated sites, and was called Traces (Tool for Risk Assessment from Chemical Exposure to Soils).
Deux siècles d'industrialisation souvent incontrôlée ont apporté quantités de friches industrielles, de dépôts de déchets, de décharges, etc dans la plupart des pays industrialisés. Ces sites ayant utilisé, produit ou généré des produits dangereux ou toxiques constituent autant de lieux potentiellement pollués. Le dernier recensement du ministère de l'Environnement fait état de 896 sites pollués sur un gisement estimé par les professionnels de la dépollution des sols à plus de 200000 potentiellement pollués. Le problème lié aux sites pollués réside dans la capacité de la pollution à migrer dans le sol et à contaminer l'eau de surface par ruissellement, l'eau souterraine par infiltration, l'air par volatilisation : il y a donc un impact potentiel sur les organismes vivants (homme, faune, flore). Comment déterminer l'étendue et l'impact exacts de la contamination et comment conjurer cette contamination devient une vraie question. La complexité technique et scientifique du problème ainsi que le manque de moyens financiers (publics ou privés) rendent la gestion de ces sites difficile (traitement dans l'urgence). Afin de faciliter ce traitement, un outil d'aide à la gestion des sites potentiellement pollués a été développé permettant une approche rationnelle, standardisée et simple des sites et sols pollués. Le logiciel Traces (Tool for Risk Assessment from Chemical Exposure to Soils) a été mis au point pour répondre à cette problématique.
Fichier principal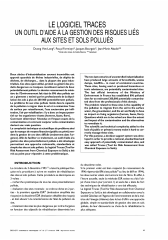 dst_1998_10_37.pdf (1.04 Mo)
Télécharger le fichier
Origin : Files produced by the author(s)