Supervision en temps réel des stations d'épuration des effluents industriels
The development of dedicated tools and techniques for real-time supervision of industrial waste water treatment plants is described, applied to the surface treatment industries. The paper presents a few aspects of an expert system for real-time supervision and fault detection. The goal of the project is the design of information and decision support systems, in order to improve the operation (security, reliability, efficiency) of waste water treatment plants.
Dans cet article est décrit le développement d'outils et techniques dédiés à la supervision en temps réel des stations d'épuration d'effluents industriels, appliqués aux industries de traitement de surface. Quelques aspects d'un système expert temps réel pour la supervision et la détection des pannes dans une station d'épuration industrielle sont présentés. L'objectif de ce projet est de concevoir des outils d'information et d'aide à la décision en temps réel, afin d'améliorer le fonctionnement (sécurité, fiabilité, efficacité) des stations d'épuration.
Fichier principal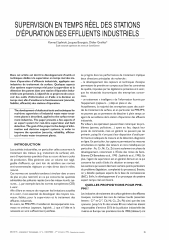 dst_1996_4_35.pdf (828.66 Ko)
Télécharger le fichier
Origin : Files produced by the author(s)